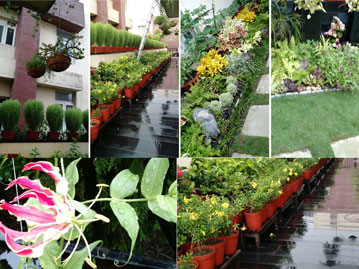 Introducing home & office landscape decoration with plants
Are you willing to decorate your home or workplace with plants? Groundwork is the perfect selection for you. We are currently based in Kolkata and cater the best service of landscaping decorations in both domestic and commercial level. Both the places need an exterior to create refreshing and energetic ambience. We are here to transform your places to the most exciting and lively places with plants.
With more than 10 years of experiences, we can provide you with the best landscaping service including trees, shrubs, orchids, water bodies and watery plants. Our Clients are offered a wide multiple range of features at a reasonable and affordable price.
Why need home & office landscape decoration with plants?
Living in a metropolitan city is equal to living with pollution and less fresh air. It's an utmost necessity to bring a fresh environment here. Plants are the live saver constituent ever. Apart from that planting in a domestic level offers you some food resources as well. On the other hand plant decoration in a business farm smooths your nerves while you have to meet your deadlines.
Our design procedure at a glance
Bonsai and Orchids and others: As the Bonsai is taken for an element of decoration it is the most vital plant for landscaping both in home and office and the best part of having a bonsai as a decorative element, is you can have different kinds of bonsais. One can have most of his decoration only using various kinds of bonsais. A number of clients are asking for different varieties of orchids and cactus to adorn their exterior. You are fortunate that we have gathered various kinds of cactus and orchids to cater the best services to our clients. Some of our clients are also asking for seasonal fruit and seasonal plant for landscaping.
Floating or other Aquatic plants: Water bodies and wall fountains are the most acclaimed products by our clients. And we have decided to add flair to the water body decoration with some aquatic plants.
Why choose us?
We bring different orchids and other aquatic plants from the trusted nurseries.
Being an experienced company of 10 years we know the different usage of different types of plants that cater to the needs of decoration.
We believe in customer satisfaction and to achieve this we give our 100% to serve our clients.
We provide you many exclusive aquatic plants to adorn your floating garden that are hard to found.
You can have the best decorative greeneries at an affordable and reasonable price.
Want to know more about our Terrace Gardening Services? Feel free to  contact or call us now at +91 33-40137000