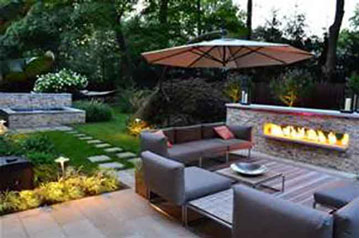 Introducing landscape factory garden
Ground Work provides a complete range of landscaping services for the factory garden to completion for clients all over Kolkata especially the business oriented areas of the city. We are the qualified and experienced company to provide every aspect of landscaping requirements.
As a veteran service provider for more than 10 years in this city, we have been counted among those few landscaping companies that are available for the best factory services in garden landscaping.
Why need garden landscaping in factories?
There are no direct connections with the business houses to the garden landscaping that are apparently mismatched with each other. From the point of hospitability and regulation a business farm needs to be warm and welcoming for the clients as well as the employees. A planned garden landscaping service plays a vital role here.
Our design procedure at a glance
Wall fountains and other water bodies: Water bodies in workplaces create a magic that reduce the workload and also keep your mind cool while you have to meet the deadlines. Wall fountains are the most modern outcome of this idea.
Stone, deck and other solution: The beautiful scenario of a business firm that is decorated with different kind of decorative stones enthuse the employees as well as the clients when they visit. Also, beautiful decking consists of seating arrangement helping the visitors or the interviewers take rest.
Our design procedure at a glance
Fountain and other water features: According to the criteria of the trendy masses, water bodies and different kinds of fountain are in demand. And fortunately, we are here to cater to all kinds of contemporary water bodies that are apt for your home garden.
Rockery decks and other features: Rockeries create modern and a stony look that is the most favourite home garden idea for the contemporary masses. Various kinds of rockery that suit your home are provided by us as per your requirements. We also cater to you decking that are both durable and stylish for your garden. Bespoke pergolas are the special feature that we cater.
Why choose us?
We have been providing our proficiency in all aspects of landscaping to our clients for over 10 working years.
We are specialised in the field of catering the water features including ponds, wall fountains, garden fountains that can provide any garden with an attractive look and cool relaxing ambience.
The decks that we provide are made of the best quality durable and affordable timber.
We believe in customer satisfaction and the workers are well trained and give their best to achieve 100% customer satisfaction.
Want to know more about our Terrace Gardening Services? Feel free to contact us or call us now at +91 33-40137000.