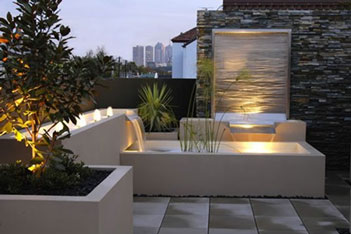 Terrace Garden in Kolkata & in India
Are you willing to transform the view and feel of your terrace? Look no further than Ground Work, having more than 10 years of experience in offering innovative terrace garden designs. We are currently based in Kolkata and cater to all your requirements of an urban terrace garden. The part of your residence having almost no utility is the terrace. With the aid of our skilled professionals, you can convert that terrace of yours into a beautiful garden.
Clients are offered our service with a wide variety of features which they can inculcate in their terrace garden to maximise the beauty quotient as well as the utility of the terrace. Few of the features are lawn, trees, water bodies, kitchen, shrubs, trees, kitchen garden, outdoor and indoor sitting area, as well as, a barbecue area.
What is Terrace Garden or Roof Garden?
As the term suggests, a Terrace or Roof Garden is simply a garden crafted on the terrace or roof your building by professionals. The roof is decorated as a garden not only to make it visually appealing but the roof plantings also help in controlling temperature, grow your own veggies, offer architectural benefits, recreational activities, hydrological benefits, habitats for wildlife, rooftop farming, and high ecological benefits. Since a terrace garden has so much to offer, more and more people are willing to transform their terrace and roofs into beautiful gardens.
Advantages of Terrace Gardening
It can be of any shape, size or design, and can be created in a low level or multi-storied building.
The plants offer a therapeutic value that helps one to relax.
Nature-lover searching for terrace garden in Kolkata & India always has the option of being surrounded with plants.
Increased production of oxygen and reduction in micro-climatic pollution.
An early morning walk in the garden can help to keep major diseases at bay.
A wide variety of fresh fruits and vegetables are always available for the residents.
Process of Terrace Garden Implementation
Opt for deep and large pots instead of the plastic ones as they heat up quickly and don't provide apt drainage.
Replace the normal garden soil with superior quality potting mix to make your plants grow healthier and enhance their productivity.
Go for raised beds in your terrace garden as you can grow more vegetables on them instead of those containers.
Craft a vegetable patch on the terrace if you have a large rooftop so that you can grow adequate amount of veggies on the surface itself.
Quick Tips To Maintain A Terrace Garden
Water the plants regularly. If possible water them twice during the summer.
Avoid watering them if it rains and even the day after, as excess water drains nutrients from the soil.
Let the garden receive 4 to 5 hours of direct sunlight daily.
Top Secrets to Create a Beautiful Terrace Garden
If the construction of your building has been done abiding the rules, it is strong enough to bear the weight of the heaviest tree.
The nutrients in the soil decide how well your plant will grow. Create the ideal soil by mixing regular soil, vermicompost, and sand in appropriate quantity.
For first time gardeners, start by growing a single vegetable in a small pot and gradually expand your veggies.
A terrace garden can grow a wide variety of veggies like chillies, okra, brinjal, beans, tomatoes, lime, and cucumber, to name a few. Root veggies like carrot, potatoes, groundnuts, and radish can also be grown if you have a large roof.
Why Choose Ground Work For Terrace Garden in Kolkata, India?
Offer bespoke design solutions to fulfill your desire to have a green urban living.
Experienced in working for projects involving commercial terraces and residential terraces.
Maintenance services are provided at a nominal price to help you preserve the beauty of your terrace garden.
Client's budget and requirements are taken into consideration before designing a customised plan for them.
Being a prime area of work, we have a 100% success record of satisfying clients with our Roof Treatment.
Want to know more about our Terrace Gardening Services? Feel free to contact or call us now at +91 33-40137000