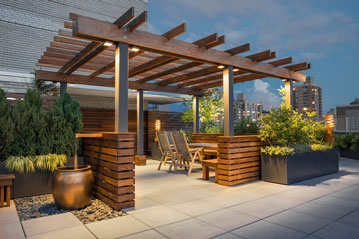 Portico Landscaping Garden
Having more than 10 years of extensive knowledge, Ground Work can cater to your requirements of a Portico Garden. Since living space is gradually decreasing, people are showing more interest in vertical gardening. This is where Portico Gardens comes to the aid.
Whether you reside in a high-rise building or a cottage, this garden can enhance the beauty of your entrance. Making use of some floral coloured stones, flowers and shrubs, the Portico Garden is the ultimate choice for people having a liking for Roman lifestyle.
Advantages of Portico Garden
The shrubbery and evergreen plants can be maintained with little attention.
The vivid colour used acts as a visual treat for residents, as well as, guests entering or leaving the house.
Colourful Portico Garden makes your entrance look spacious.
Option to choose from a wide variety of potted plants.
Decorating with some herbal plants also comes handy at times of need.
Why Ground Work Is The Perfect Choice For Portico Garden?
Having undertaken numerous commercial and residential projects, we have a long list of satisfied clients.
Work closely with clients from all over India and design effective plans depending on their budget.
Amend the soil before carefully installing the plant materials, to enhance the longevity of your Portico Garden.
Want to know more about our Terrace Gardening Services? Feel free to contact or call us now at +91 33-40137000